All your investments in one place, not all over the place
Sharesight's award-winning performance and tax reporting lets you track shares and ETFs from over 40 exchanges worldwide, plus Australian LICs and managed funds. You can also track cash and over 100 currencies, as well as unlisted investments such as fixed interest and investment properties. And it's all wrapped up in an easy-to-use online portfolio tracker.
Powerful performance insights
Sharesight includes everything you need to manage your investment portfolio, and can be tailored to suit your needs.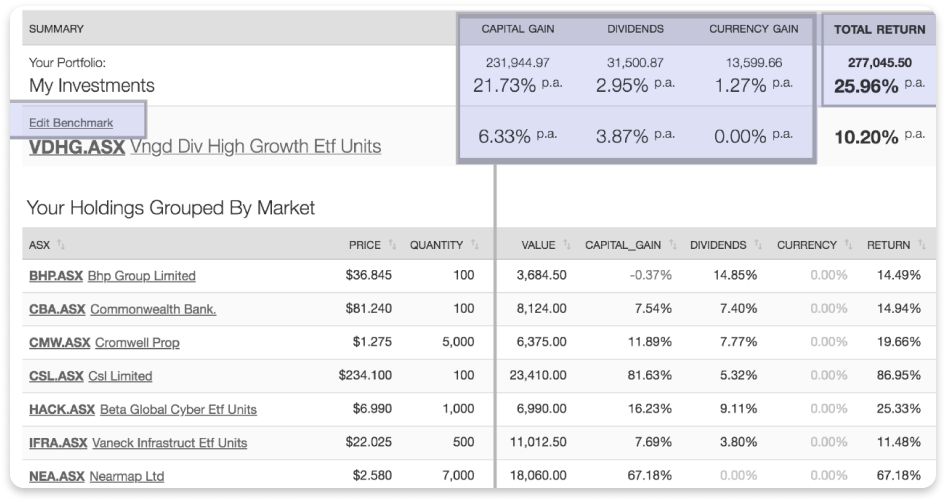 Built for Australian investors
Investors just like you use Sharesight to get all the info they need to report investment income as part of their tax returns with the ATO.
Australian tax rules
CGT discounts are automatically calculated based on your tax entity: Individual/Trust, SMSF or Company.
Franking credits
See all your dividends automatically tracked, with a breakdown of franked and unfranked dividend income.
SMSF record-keeping
Automatically record all trades & dividends, and connect to Xero to reconcile with your bank account.
All your dividends, in one place
Use the Taxable Income Report to see a running total of all your dividends, distributions and interest payments over any time period, broken-up by local Australian (non-trust and trust) income and foreign income. Franked/unfranked amounts and relevant franking credits are also provided. Plus, you can accurately account for AMIT cost base amounts once you update the value from the MIT holding on your AMMA (AMIT Member Annual) statements.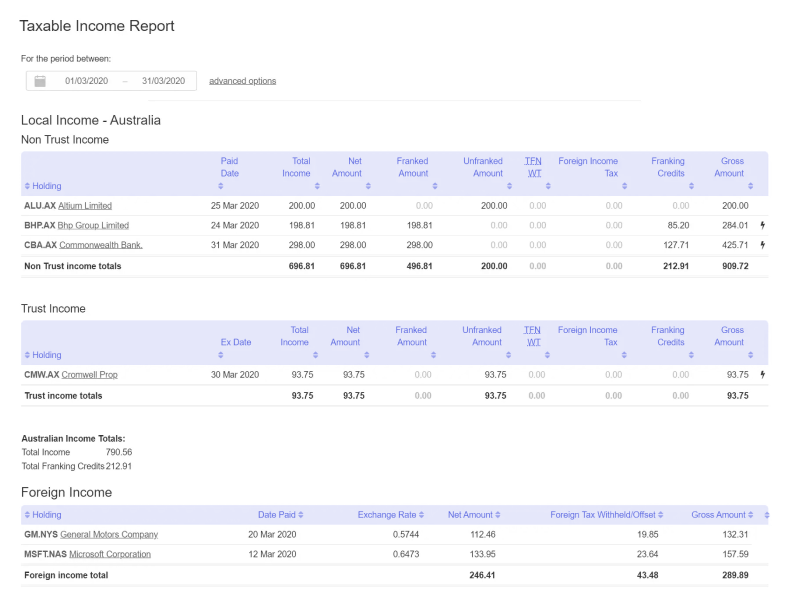 Upload your holdings, and we'll take it from there
Upload your holdings
Sign up and add your holdings – either by connecting to your broker, uploading a spreadsheet, or manually entering your trading history or opening balance.
Get automatic updates
Sit back and watch as corporate action data (such as dividends and stock splits) are automatically incorporated – going back up to 20 years, and ongoing.
Gain powerful insights
Graph your performance, benchmark your portfolio against market indexes, see your asset allocation, and visualise your portfolio diversity by market, sector, country, and more.
Don't just take our word for it
Over 300,000+ investors track their investments with Sharesight. Here's what a few of them have to say:
Trusted by investors just like you
40
Stock exchanges supported
240,000+
Stocks, ETFs and funds tracked
Plans & Pricing
Start by tracking up to 10 holdings for free! Then upgrade to a premium plan at any time to track additional holdings or portfolios, and unlock advanced features. And as a bonus, your Sharesight subscription may be tax deductible. *
1 Portfolio
10 Holdings
1 Custom group
Limited reporting
Basic support
Starter
$19
AUD per month
billed annually
$25.33 AUD billed monthly
1 Portfolio
30 Holdings
3 Custom groups
Limited reporting
Standard support
Investor
$29
AUD per month
billed annually
$38.67 AUD billed monthly
4 Portfolios
Unlimited Holdings
5 Custom groups
Advanced reporting
Standard support
Expert
$49
AUD per month
billed annually
$65.33 AUD billed monthly
10 Portfolios
Unlimited Holdings
10 Custom groups
Full reporting
Priority support
* If you are an Australian tax resident and you derive income from the sharemarket, your Sharesight subscription may be tax deductible. Check with your accountant for details.
Award-winning portfolio tracking