Tax reports for your investment portfolio
Tax reports built for investors like you. If you trade shares, ETFs, or even cash, you need Sharesight.
Sign up for free
Investment tax reports
Easily calculate the tax implications of investing across your entire portfolio with Sharesight's investor reports.
Dividend income tracking
Report income from dividend, distribution and interest payments for all your investments.
Secure portfolio sharing
Share secure portfolio access and tax reports with your accountant to stay on top of your investment portfolio.
Your Sharesight subscription is tax deductible*
Pay before June 30 and claim your subscription expenses in your tax return.*Check with your accountant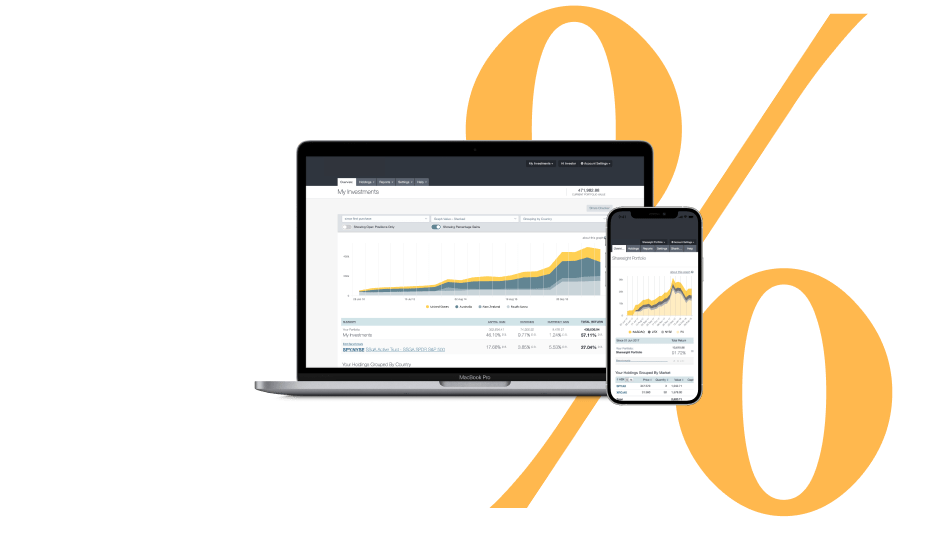 Everything you need to calculate tax on your investments
With Sharesight, all your investment portfolio data lives in one place. You also have access to powerful reports that make it easy to calculate tax on your investments throughout the financial year.
Track all your investment income
Report your investment income from dividends, distributions and interest payments, broken-up by local Australian (non-trust and trust) income and foreign income with the Taxable Income Report.
Built for Australian investors, the report includes all franking credits earned during the financial year. With historical dividend data going back over 20 years the report can be run at any time, over any time period to help you complete your tax return.
Calculate your capital gains tax
Calculate your capital gains on investments as per Australian Tax Office (ATO) rules with the Capital Gains Tax Report. You can also optimise your tax position by comparing sales allocation methods and parcel cost bases.
Offset your capital gains
Take advantage of tax loss selling by using the Unrealised CGT Report to model the net capital gains tax that would occur across your portfolio by selling down a mix of investments in your portfolio. With the ability to modify the CGT sale allocation method for each investment sold, you can optimise your capital gains tax position across your portfolio.
Save time on your SMSF administration
See your performance, diversification and asset allocation, plus track your investment income (including franking credits) and run your tax reports, with CGT discounts automatically applied.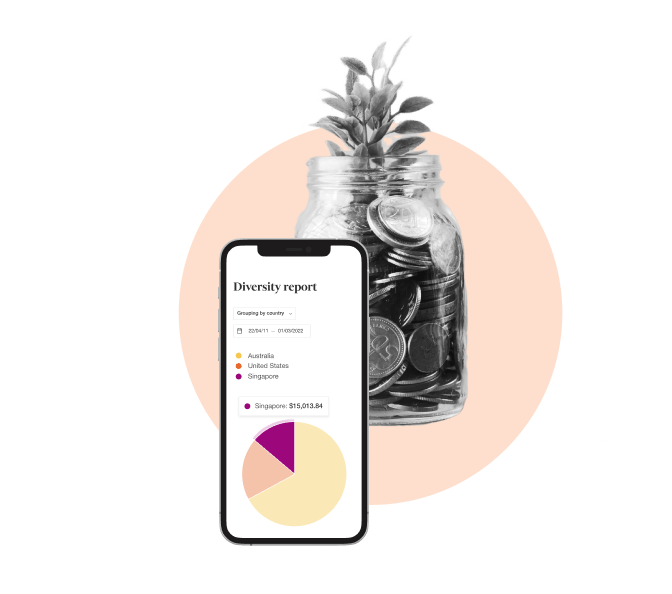 Built for Australian investors
Investors just like you use Sharesight to get all the info they need to report investment income as part of their tax returns with the ATO.
Australian tax rules
CGT discounts are automatically calculated based on your tax entity: Individual/Trust, SMSF or Company.
Franking credits
See all your dividends automatically tracked, with a breakdown of franked and unfranked dividend income.
SMSF record-keeping
Automatically record all trades & dividends, and connect to Xero to reconcile with your bank account.
Don't just take our word for it
Over 300,000+ investors track their investments with Sharesight. Here's what a few of them have to say:
Investment tax reporting FAQ
What is capital gains tax?

Capital gains tax is a tariff that investors pay on the profit made from selling an investment. Capital gains are included in investment income tax in Australia, and there are different levels of taxation depending on how long the investor holds the investment before selling. Specifically, long-term capital gains (for stocks held longer than a year) are taxed at a 50% discount, which means tax is only paid on half of the net capital gain. To learn more about the tax implications of capital gains, please refer to the ATO rules.
How to calculate capital gains tax on investments?

Investors can calculate the capital gains tax on shares and other investments they have sold by calculating the difference between the value of the purchase price (adjusted to include any transaction fees) and the current market value at the point of sale. However, this can be time-consuming and subject to error, especially for investors with a lot of trades.

Australian investors can automatically calculate the CGT on their investments with Sharesight's Capital Gains Tax Report, which provides investors with a breakdown of their short-term and long-term capital gains, as well as capital losses. For investments that have been entirely sold out of the portfolio, Sharesight's Sold Securities Report will also display the capital, dividend and currency gains associated with those investments, allowing investors to calculate their average cost base.
Do I need to report capital gains on taxes?

If you incur capital gains or losses on the sale of an investment, then you will need to report your capital gains/losses in your Australian income tax return. For specific advice on reporting capital gains, please refer to the ATO rules.
Are dividends taxable income?

Yes. Dividends are considered taxable income in Australia and must be reported in your income tax return. The rate at which dividends are taxed, however, depends on a variety of factors such as whether the dividend-paying assets are held in the form of a company, trust or Self-Managed Super Fund (SMSF), and whether the dividends have any franking credits attached. For more detailed information on reporting dividend income in your tax return, please refer to the ATO rules.
Are ETF distributions taxable income?

Yes. ETF distribution income is considered taxable income in Australia and must be reported in your income tax return. ETF distributions can include various forms of investment income, such as dividends, franking credits, realised capital gains, interest and foreign income, which can create tax complexity. Taxation can also become more complex if the distributions have been paid out by an ETF that is structured as an Attribution Managed Investment Trust (AMIT), which handles the treatment of tax-deferred income differently than Managed Investment Trusts (MIT). Sharesight makes tax time easier for investors by automatically tracking dividends and distributions, including AMIT component breakdowns.
How do I calculate taxable income from dividends?

Done manually, calculating taxable income from dividends can be a tedious process, requiring investors to sort through a combination of paper statements and digital statements via multiple share registries. However, Sharesight automates this process by automatically tracking dividends and distributions. Sharesight also makes it easy for investors to calculate the taxable income on their dividends by using Sharesight's Taxable Income Report. This report displays a portfolio's dividends and interest payments, along with the relevant totals investors need to complete their tax return.
What are unrealised capital gains?

Unrealised capital gains occur when the value of an investment in an investor's portfolio has increased, however the investor has not sold the investment. This means the gains have not been "realised". Unrealised capital gains are useful information for investors who want to use tax loss selling (or tax loss harvesting) to minimise their net capital gains during the financial year for tax purposes.
How to calculate unrealised gains for tax harvesting?

Australian investors who wish to see a summary of their unrealised capital gains (or losses) for tax loss harvesting purposes can use Sharesight's Unrealised Capital Gains Tax Report . This report divides unrealised CGT into short-term capital gains, long-term capital gains and capital losses, and allows investors to change their sale allocation method as needed.
Who is Sharesight's Taxable Income Report suitable for?
Disclaimer: The above content is for informational purposes only and does not constitute a specific product recommendation, or taxation or financial advice and should not be relied upon as such. While we use reasonable endeavours to keep the information up-to-date, we make no representation that any information is accurate or up-to-date. If you choose to make use of the content on this page, you do so at your own risk. To the extent permitted by law, we do not assume any responsibility or liability arising from or connected with your use or reliance on the content on our site. Please check with your adviser or accountant to obtain the correct advice for your situation.